Dear supporters of ACI  and our animal welfare work here in Bosnia and Herzegovinia,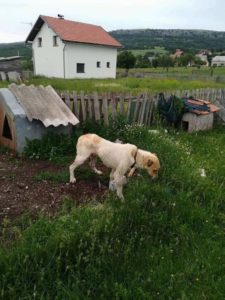 Here are some pics of a TYPICAL scene in Bosnia and Hercegovina.  Poor poor dogs are kept on chains.
Poor poor MEDO was first put on the chain when he was only 7 weeks old. He was living near a house in which nobody was living. The man put him on the chain so that Medo would gaurd the house. POOR MEDO WAS NEVER TAKEN FOR A WALK AFTER THAT TIME. HE WAS ON THE SMALL CHAIN 24 HRS A DAY. Naturally the poor boy became very aggressive towards any dog or person who came near him. The horrible cruel person who put him on the chain also feared him and abused him with a piece of wood. Poor Medo was as thin as a rake.
https://www.animalcare-international.org/wordpress/wp-content/uploads/2019/08/aci_logo_rt.png
0
0
wolfgang
https://www.animalcare-international.org/wordpress/wp-content/uploads/2019/08/aci_logo_rt.png
wolfgang
2019-02-17 20:43:38
2019-02-17 20:49:12
Medo