Lebens-Chronologie von Baby Mimo
Seine Rettung, seine ernsten Erkrankungen, seine Genesung und Überstellung nach Österreich.
Unsere Mitarbeiterin Nina und ihre Mum (beide in Sarajewo) haben Tolles geleistet, den Kleinen gefunden, aufopfernd gepflegt und nie daran gedacht, aufzugeben. ACI hat alle Kosten komplett übernommen, und heute ist der Kleine ein lebenslustiger Geselle, der sein Leben in vollen Zügen genießen kann. #wirsagendanke
Hier der ORIGINALTEXT von Nina:
Mimo was found by my mom and I one sunny day, end of October 2020. Although the weather was nice and it was still not too cold, we spoke to the man who worked in a shop nearby a meadow where Mimo was all alone and he said the Mimo just 'showed up' that very morning. 
He believed that someone had dumped him near his shop, thinking maybe they would feed him and he would survive.. but he was just so small, barely 5 weeks old at the time and it was out of question that he would even survive the first night outside, all alone, hungry and cold. So we took him on the very same day. Everything was great the first 4-5 days, he was sleeping, eating, playing and we were really happy we saved the little guy. After 5 days, things got bad. He stopped eating and playing and could barely keep his head up.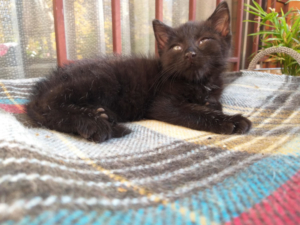 His eyes were completely shut and he got very sick, over night. We took him to the vet immediately where he was unfortunately diagnosed with Feline distemper. He had a very high fever and the vet started him on IV, antibiotics and other medication but right away he told us to prepare as the chances of him surviving were not more than 5 % because he is just so small and so skinny, he weighed less than 500 grams.. and separated from his mom too soon… but we did not give up, we were at the vet first thing in the morning and last thing at night for more than 2-3 hours every time while Mimo was on IV. This lasted for 12 days.. we were feeding him with a syringe, giving him water.. at the vet every single day and hoping for a miracle. And a miracle happened! He started eating one day.. little by little he got his strength back and started playing and looked so much better.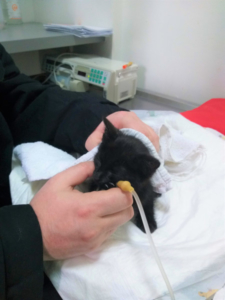 We were just so happy and so grateful, knowing he would for sure die if left out all alone, without food, shelter and being so sick… Just as we thought everything bad was behind us, he developed a ringworm and started losing most of his hair.. We were back at the vet. He was prescribed 2 types of cream 5-6 times a day and a medical shampoo bath 3-5 times a week. Poor little Mimo was so exhausted from medication but because of all the antibiotics it was no wonder his immune system got so weak and he developed the ringworm. 4 weeks later, lots of good food, vitamins and care, things started looking much better and Mimo recovered from this too 🙂 He started putting on weight, playing like crazy and we knew it was finally over and he will survive all the troubles! He spent at least 2 of his 9 lives so he has 7 left now :))
https://www.animalcare-international.org/wordpress/wp-content/uploads/2019/08/aci_logo_rt.png
0
0
marion
https://www.animalcare-international.org/wordpress/wp-content/uploads/2019/08/aci_logo_rt.png
marion
2021-03-29 00:05:44
2021-03-29 00:21:25
Mimo